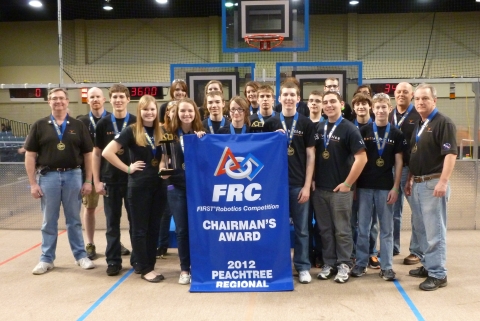 Marietta, GA, March 19, 2012 — The Kell High School Robotics Team and members earned three major awards at the FIRST® Peachtree Regional Robotics Comptition at the Gwinnett Civic Center in Duluth Georgia. FIRST (For Inspiration and Recognition of Science and Technology) was started by accomplished inventor Dean Kamen in 1989 to inspire an appreciation of science and technology in young people.
The team earned the Peachtree Regional Chairman's Award for their work in promoting and encouraging STEM (science, technology, engineering, math) education. The Chairman's Award represents the spirit of FIRST. It honors the team that, in the judges' estimation, best represents a model for other teams to emulate, and which embodies the goals and purpose of FIRST. It remains FIRST's most prestigious award.
Carlie Schulter, a senior at Kell and the team's executive director earned the "Dean's List Award". This award is named after Jack Kamen, father of Dean Kamen, and recognizes her commitment and leadership to advancing the mission and goals of FIRST.
Team mentor Ed Barker received the Woodie Flowers Award for his work in helping students and the communities understand of the challenges, opportunities, and satisfaction involved in the discipline of engineering and design. The award is named after Dr. Woodie Flowers, the Pappalardo Professor Emeritus of Mechanical Engineering at the Massachusetts Institute of Technology and a Distinguished Partner at Olin College. Dr. Flowers serves as National Advisor and Chairman of the Executive Advisory Board for FIRST
The regional hosted 60 teams from 7 states. After 90 games of robotic basketball the Kell team's robot was #1 seed. Unfortunately the team's alliance did not advance past the quarterfinals and consequently did not win the robot competition.
The team now advances to the FIRST Robotics Championship in St. Louis Missouri. They will compete for the Championship Chairman's Award, Woodie Flowers Award, Dean's List Award, and have another chance at grabbing the top robot competition award.
For more information about Kell Robotics, visit: http://www.kellrobotics.org
###
About The Kell High School Robotics Team
The Kell High School Robotics Team is an extracurricular activity at the Carlton J. Kell High School in Marietta Georgia. The high school is a Georgia Public school that is part of the Cobb County School District. This program complements the school's missions by creating hands on opportunities to motivate and educate students.
Kell Robotics is not an advocacy society for robotics. The team's mission is to create a culture where studying, participating, and achieving accomplishments in STEM (science, technology, engineering, and mathematics) activities are celebrated.
About FIRST®
Accomplished inventor Dean Kamen founded FIRST® (For Inspiration and Recognition of Science and Technology) in 1989 to inspire an appreciation of science and technology in young people. Based in Manchester, N.H., FIRST designs accessible, innovative programs to build self-confidence, knowledge, and life skills while motivating young people to pursue opportunities in science, technology, and engineering. With support from three out of every five Fortune 500 companies and $14.7 million in college scholarships, the not-for-profit organization hosts the FIRST® Robotics Competition (FRC®) and FIRST® Tech Challenge (FTC®) for high-school students, FIRST®LEGO® League (FLL®) for 9 to 14-year-olds (9 to 16-year-olds outside the U.S. and Canada), and Junior FIRST®LEGO® League (Jr.FLL™) for 6 to 9-year-olds. Gracious Professionalism™ is a way of doing things that encourages high-quality work, emphasizes the value of others, and respects individuals and the community. To learn more about FIRST, go to www.usfirst.org.
FIRST ®the FIRST logo, FTC®, FRC®, FLL® are registered trademarks, of the United States Foundation For Inspiration and Recognition of Science and Technology (FIRST). Jr. FLL™ is a trademark of FIRST.
LEGO® is a registered trademark of The LEGO Group.